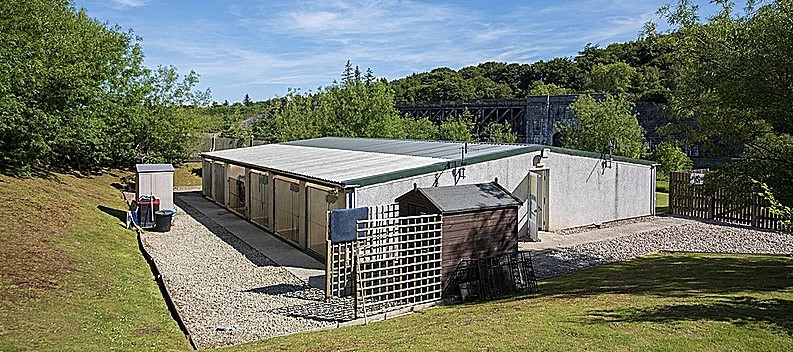 Here at Gordon Country Kennels we have 11 large and beautifully finished suites, which include television & underfloor heating. They have been designed to give your pet a real home from home feeling, providing a relaxing environment. Depending on your dogs needs and requirements we can offer a relaxing environment, with stunning views of the surrounding countyside from the comfort of their suites and private playparks. To an action packed fun filled holiday with lots of activites including secure play areas (no leads required), an agility park including tunnels, sand pit, ballgames & frisbees and Picturesque river walks.

Bedding, Toys & Feed

We strongly encourage owners to bring any dog beds, dog bedding and toy items of comfort from home as this will help them settle. Please do not wash any bedding or toys as they need to have familiar smells of home.
We would prefer you to bring your own dog food, so we can keep your dog happy and not upset their diet. We want all our guests to have a healthy happy stay!
Vaccinations
Please check your vaccination certificate. Vaccinations and kennel cough must be up-to-date and ensure you bring your vaccination certificate with you when checking in. *We cannot accept your dog without it*
To keep all our guests safe we also require that all guests have been wormed, flea and tick treated.
Health, Hygiene & Security
Owners undertake to declare any history of veterinary, behaviour issues or any phobias that could reoccur or effect your dog whilst boarding. The more we know about your pet, the more at home we can make them feel.
In an emergency or illness we will contact the owner, or your nominated contact. We have an excellent local veterinary practice that is close by and available 24 hours a day, or if possible we will take your dog to your own veterinary practictioner.
Your dog will be covered with Pet Plan while they are under our care.
This is our family home, so you can rest assured that there is always somebody here 24 hours a day. We also have security lights and operating security cameras!